Health & Fitness
Guest Expert and LifeVision Contribution:
Elizabeth Anderson & Cynthia Sumner
Elizabeth Anderson is a certified sports nutritionist, fitness model, and competitor from the Salt Lake City, UT area. She has helped train and coach many individuals in achieving their goals in health and fitness through sound nutrition and effective training. Being a mother of four children herself, she is especially able to connect with and inspire other mothers who want to be healthy and fit.
 Love Your Body from the Inside-Out
How to LOVE your body from the INSIDE-OUT and why this is the only way to get and stay FIT for life!
Powerful mindset tools so you don't binge at all you can eat buffets, party desert tables, holiday dining, and more!
Easy systems for your busy life so you can eat healthy at home, on-the-run, in hotel rooms, and more.
Cynthia is a mother of 4, 1 daughter and 3 boys they are actively involved in dance, baseball, soccor, football, basketball, guitar, piano and singing.  Her husband is a principle at a middle school. They enjoy biking, running, camping, snowshoeing, hiking- anything that is outdoors.  She has completed the St. George Utah marathon, the Provo Half triatholon, many sprint triatholons, half marathons and last summer the 70 mile Wonder Women Bike Ride. She has been studying nutrition and it's affects on the body, mind and spirit for over 10 years. Her mission is to help change the relationship with food from negative to positive.  She educates and mentors individuals to lose weight, heal and prevent naturally.  It is important to her that her clients feel fulfilled, satisfied and happy through the process of change.  She focuses on cleansing emotionally as well, using meditation, exercise, sun healing, deep breathing and live food and most importantly positive thought and energy to promote connection with ourselves, our loved ones and our maker.  It has been one of the greatest blessings in her life to watch her clients life change by changing their diet and taking care of themselves in all areas- promoting self confidence, mental clarity and the ablility to handle stress.  They have the power to move forward accomplishing things they never thought they could.
Cynthia Sumner-Healing Leaf
Wholistic Health Coach
High Frequency Nutrition for your body, mind and spirit
Have you tried a diet before and felt miserably deprived without results, or lasting results? Find out how to make changes in your life style, enjoying the change and recieving life long results.
Do you feel disconnected from yourself, important relationships and your maker? Find out how to reconnect, discover hidden power in yourself and break down barriors allowing for success in all parts of your life.
Learn a profound tool in opening up to loving healthy food and breaking the addiction of bad food!
Discover how live food, our spirit, music, meditation, exercise and joy are all connected
The Green Leaf (Cynthia Sumner)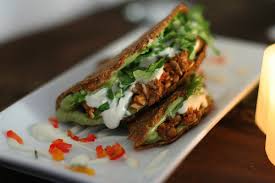 Enter your name and email and get 5 free tips and recipes.
 Busy schedule?? No excuse.  What you must do to never miss a workout again!
How to travel without packing on the pounds.  Essential items to pack to look and feel your best during flights and hotel stays!
How to defeat emotional eating, sugar cravings, and late night bingeing!
The Miracle Pill
There is no pill, but I thought it a miracle to be free of weight battles after struggling my whole life as a fat person.  Don't just lose weight, seek something better: enjoy an ideal weight while you have a peaceful relationship with your body. ~Author Tres Hatch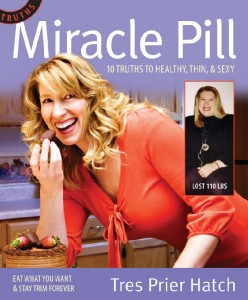 Miracle Pill reveals how to eat what you want and stay thin forever.  Because of these 10 Truths, chef Tres Hatch lost 110-pounds, without dieting.  Even more remarkably, she permanently changed herself from someone who battles her weight, to someone in harmony with her body—without sacrificing her love for yummy food.
How can any book do this?  By learning to think like a thin person.  With common sense and a goal of health, rather than strictly weight loss, Miracle Pill teaches how to connect to your body and get your body prompting you like a healthy, thin person.  Ultimately, those healthy behaviors become permanent and the body takes on the ideal shape for each individual, without diets, gimmicks, or extreme workouts.  Living in harmony with your body really is the only permanent weight-loss method—and Miracle Pill helps you change your impulses so you desire correct fuel and consistent, moderate exercise.  The best part is: correct fuel includes all the great treats you love.
SHOP
20 INGREDIENTS & 20 MINUTES
You buy 20 fresh, local and organic ingredients. Most subscribers say it takes less than 20 minutes to complete their shopping. NOTHING is processed or frozen, making sure everything is preservative free. Good meals for your family.
PREPARE
1 HOUR X 1 PER WEEK
We give you a step by step guide to prep the entire week's meals. It takes an hour at the start of your week to save you valuable time during busy weeknights
COOK
STRESS FREE WEEKNIGHTS
Each complete meal is simple to prepare and features recipes that the whole family can create together.

Smart Phone Apps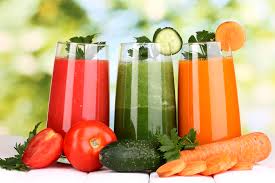 Juicing
http://www.fatsickandnearlydead.com
Power Life Academy (The Green Smoothie Goddes – Liz Phalp)
Eating Clean – Documentaries
http://www.fatsickandnearlydead.com
Article on Best documentaries
http://healthywildandfree.com/top-10-health-documentaries-of-all-time/#_