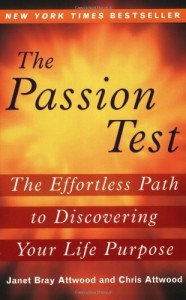 Download The Passion Test here
How to Take The Passion Test
The Passion Test is the simple, powerful process to discover your passions and align your life with what matters most to you, starting now.
Surveys show that four out of five Americans are not passionate about their lives. In our experience this statistic holds true for people in other countries too.
Unhappiness in work or love, with money or weight, all contribute to the number of people just going through the motions, not really living life to the fullest. How can they discover their passions and begin really living? The life changing answer is found in THE PASSION TEST by visionaries Janet Bray Attwood and Chris Attwood.
Accessible to anyone, of any faith, from any background, THE PASSION TEST is the only process that takes you beyond principles to experience the transformation that occurs when they take the time to determine what really matters most to you in your life. The Passion Test shows you step by step how to identify your top five passions, and then provides the guidance to align your life with these passions.